News On Purpose – May 2021
2020 Year in Review
The 2021 Lex Mundi Virtual Annual Conference, held on May 5, provided a preview of Lex Mundi initiatives as well as the opportunity to reflect upon the accomplishments of 2020. In the face of uncertain times, Lex Mundi member firms rallied together to give back to their communities. In 2020 alone, 74 member firms matched with 99 social entrepreneurs on 202 matters. This is a record high for the Foundation! These numbers are a testament to Lex Mundi attorneys' commitment to pro bono services.
Since inception, the Foundation has connected 129 Lex Mundi member firms with 883 social entrepreneurs on 1,946 individual matters in 43 U.S. states and territories and 103 countries across the globe! After a record-breaking year, the Foundation is off to a great start in 2021! To date, 39 member firms have been matched with 45 social entrepreneurs on 78 matters.
The Foundation is grateful for the consistent, high-quality, critical pro bono legal support that Lex Mundi member firms provide. With your support, the Foundation has continued to grow and expand its reach to support some of the world's leading entrepreneurs. Together, let's make 2021 another banner year!
Lex Mundi Pro Bono Foundation Awards
The Lex Mundi Pro Bono Foundation had the privilege of recognizing the winners of the 12th Annual Lex Mundi Pro Bono Foundation Awards during the 2021 Lex Mundi Virtual Annual Conference. These awards honor Lex Mundi member law firms that have provided critical pro bono legal services – helping to strengthen the global rule of law, support the global social entrepreneurship movement and improve lives and communities around the world. The five winners are:
During a year of crisis, these honorees contributed a tremendous amount of time and resources and touched countless lives. They provided legal expertise across practice areas, allowing innovative enterprises to tackle problems ranging from education inequity to natural disasters. You can read more about their great work here. On behalf of the Lex Mundi Pro Bono Foundation and the many social entrepreneurs served, thank you!
Impact Spotlight:Thaki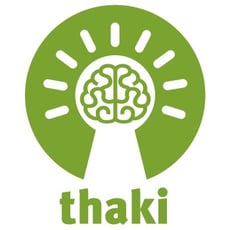 Houthoff, the Lex Mundi member firm for the Netherlands, was one of the five well-deserving firms honored at the annual Lex Mundi Pro Bono Foundation awards.
One of the many worthy organizations Houthoff has served is Thaki, a social impact non-profit founded in 2015 by Rudayna Abdo to advance digital inclusion and bridge learning gaps amongst refugees and underserved children. Abdo herself was forced to flee Lebanon as a child after a bomb hit her family's home. She noted that amidst the chaos and destruction, her parents emphasized the importance of continuing her education. Abdo went on the earn a bachelor's degree in Architectural Studies from MIT and a master's degree in Urban Planning from McGill University. After 20 successful years in the corporate world, she left her career to dedicate her time and energy to creating Thaki.
Her model is simple, yet effective. Thaki collects gently used electronics, including laptops and tablets, from large corporations and institutional donors; pre-loads them with educational content that is accessible regardless of internet connectivity and distributes the devices to education centers that work with refugees and vulnerable children. This innovative and impactful initiative earned Thaki recognition as a Solver through MIT Solve, one of the Lex Mundi Pro Bono Foundation's many collaborators.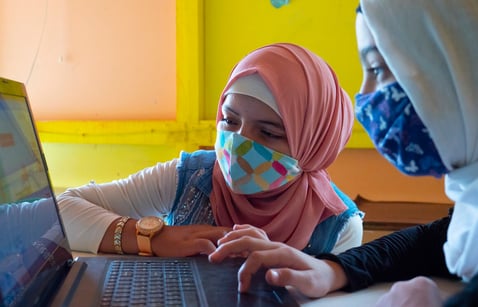 The Foundation offers pro bono legal assistance to MIT Solvers and introduced Abdo to the team at Houthoff. "I am immensely grateful for the legal support provided by Houthoff to Thaki," says Abdo.
"The attorneys who were assigned to our case were very professional and friendly and took lots of time to make sure I understood everything clearly, always available to make clarifications and changes as relevant to our context."
The Foundation initially approached Houthoff with a single discreet project, but Houthoff attorneys took it upon themselves to draft five template contracts critical to Thaki's operations. According to Abdo, "Working with Houthoff allowed Thaki to align some of our compliance and contractual needs to European requirements. For a small yet growing nonprofit organization, such legal complexities are difficult to navigate alone and such service is invaluable as it would otherwise be unaffordable to us."
Thanks to initiatives like MIT Solve and pro bono services from organizations like Houthoff, Thaki can continue to scale and grow its program to touch thousands of children's lives!
Legal Program Manager

This April, we welcomed Allison Laubach as the new Legal Program Manager for the Lex Mundi Pro Bono Foundation. In her role, she will direct the Foundation's flagship legal matchmaking program, connecting leading social entrepreneurs with Lex Mundi member firms for critical pro bono services.
She is excited to transition into her new role saying, "I'm thrilled to be joining the Lex Mundi Pro Bono Foundation and the greater Lex Mundi team. Over the past month, I have met several Lex Mundi attorneys and social entrepreneurs and seen the incredible work they do every day. I look forward to supporting them as they continue to make a positive impact around the world."
Prior to joining the Foundation, Allison was an attorney in the Intellectual Property Transactions groups at two Am Law 100 firms, specializing in intellectual property and technology licensing, development and commercialization. She also ran the literacy center at a Title 1 school in Baltimore.
Allison received her J.D. from Vanderbilt Law School, where she served as Managing Editor for the Journal of Entertainment and Technology Law. She graduated from Duke University, with honors, earning a B.A. in History and a Certificate in Markets and Management.